Waar de 'La Voiture Noire' een coachbuild was op basis van de Chiron, is de Edition Noire een kleine bewerking van een standaard-Chiron, met een navenant lager prijskaartje. Hoewel: 'lager' is relatief, het ding kost nog steeds €3 miljoen.
Klanten kunnen kiezen uit twee versies: een vlotte "Chiron Noire Sportive", of een elegante "Chiron Noire Élégance". We laten de PR-speak zijn werk doen:
Black exposed carbon covers the finely wrought body of the "Chiron Noire Élégance". The grille of the famous Bugatti radiator sports a fresh design, while the Bugatti "Macaron" emblem sits at the centre, made of solid silver and exclusively refined with black enamel. Calipers finished in black are installed behind the new Caractère wheels. The C-shaped Bugatti signature line, milled from solid metal, visually interrupts the black body of the "Chiron Noire Élégance" with its matt polished aluminium finish. Other exterior accentuations such as the rear-view mirror and engine cover are finished in black carbon and polished aluminium. The "Noire" inscription adorns the side panels in front of the rear wheel and the underside of the rear wing.
The interior is also dominated by black. Inside the "Chiron Noire Élégance" only the "Inner Signature Line" – the light bearer curved in the style of the outer C-line – is made of aluminium with a silk-matt finish. The edition model inscription "Noire" appears on the door sills and on the outside of the centre console, as well as being sewn into the headrests. An additional carbon badge inlaid in the centre armrest demonstrates the exclusivity of each edition vehicle.
In the "Chiron Noire Sportive", Bugatti covers the exposed carbon fibre with a matt black finish. The exterior trim elements, the C-shaped Bugatti signature line, the wheels, front spoiler and radiator grille are all matt black. The four visible tailpipes of the titanium exhaust system are likewise finished in black, as are parts of the engine cover. The interior is even more dominated by black than in the "Chiron Noire Élégance". The embroidered "Noire" inscriptions on the inlays of the centre console and the headrest are black, as are the aluminium trim parts in the interior. Meanwhile the inner C-line, switches, push-buttons and rotary knobs on the dashboard, steering wheel, centre console and door handles in matt black underline the car's exclusive, sporty character.
De Chiron Noire kost 100.000 euro extra, en is beschikbaar voor de Chiron Sport. Bugatti limiteert de optie tot 20 modellen.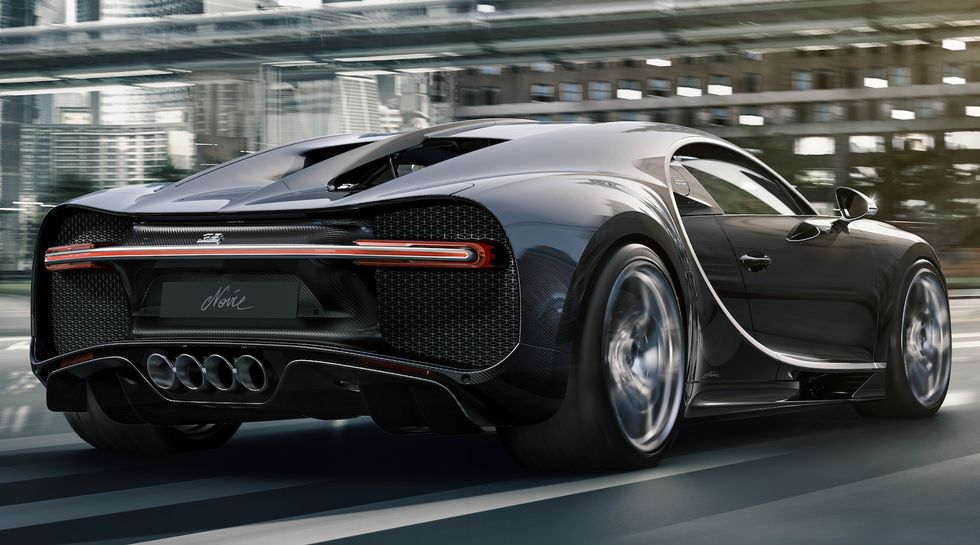 window._taboola = window._taboola || []; _taboola.push({ mode: 'alternating-thumbnails-a', container: 'taboola-below-article-5f34a2819abc5', placement: 'Below Article Thumbnails 2', target_type: 'mix' });